Storm Drain Mural Project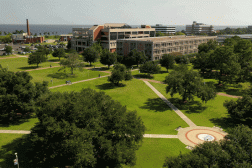 EcoTopic / Project Category
Water, Education & Awareness, Habitat & Wildlife
Project Goal Summary
The proposed project is to create a storm drain marking program at the University of New Orleans. An inventory of drains on campus and immediately adjacent to campus will be created and added to the university's new Sustainability website. Each drain with have a marker added informing the community that storm drains empty into the lake. 

An environmental education program regarding storm drain runoff will also be created using information from Keep Lousiana Beautiful, the Sewerage and Water Board of New Orleans, and Lousiana Wildlife and Fisheries. The primary focus area of this project will be to reduce litter or contaminants entering storm drains on UNO's campus with a secondary focus on an environmental education program. 
Project Location
2000 Lakeshore Dr
New Orleans, LA 70148
United States
Project Goals and News
Part of the environmental education program involves hosting a campus event where students can paint a mural dedicated to the wildlife who live in Lake Pontchartrain. Community engagement is important to cultivate sustainable practices and students will be educated about waste and contaminants that enter the lake through the storm drains. 

This project is being funded by Keep Louisiana Beautiful through the Healthy Communities Grant. As part of the Healthy Communities Grant, Keep UNO Beautiful will host a litter pick up day around the campus storm drains. 

Through this project, we hope to prevent litter and reduce waste entering Lake Pontchartrain. 
Tag Your Project
Environmental Education, Waste Management, Litter, Water, Lake, Environmental Art, Art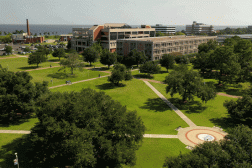 Date Last Modified:
Mar 19, 2023