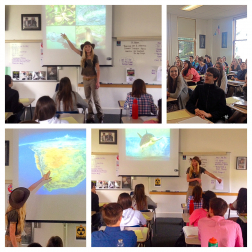 EcoTopic / Project Category
Community & Environmental Education, Education & Awareness, Outdoor Education & Leadership
Project Goal Summary
The Trail Less Traveled is a radio series, podcast and international outreach program dedicated to documenting humanity & planet earth by gathering stories & sounds from the most remote locations around the world. The intention is to seek and share knowledge with the our greatest natural resource: children. By visiting schools, we are able to plant the seed from a young age regarding a number of global issues including (but not limited to) the genocide of African elephants & rhinos, the slaughter of protected species of sharks in Australia, the use of 1080 by the New Zealand government to control invasive predators & heritage theft/illegal wildlife trade across Asia.

The Trail Less Traveled's global outreach program was able to connect with over 10,000 children in India in 2006 and has visited every school in Missoula to date beginning in 2005. Music is an international language and the didjeridu is our skeleton key of choice. By connecting with the students first via the didjeridu, Mandela is then able to spotlight various conservation issues targeted at what the students are studying in school at that time.

The goal for the radio series, podcast and community presentations is to take you, the listener, back to mankind's earliest form of entertainment: story telling. Therefore, every week features an interview with an adventurer in their natural habitat in order to provide an audible jorney packed with information & inspiration.
Everyone has a story & different perspective, we aim to share the stories from the world's diverse cultures & unknown lands. We give back to each culture by doing outreach with local schools while recording on location.
Project Location
2620 Radio Way Unit B
Missoula, MT 59808

Project Goals and News
The challenge our project is designed to address is bringing awareness about wildlife and conservation to students of all ages within and outside of the classroom. Our intention is to seek and share knowledge on a global level. Our impact is to plant the seeds of curiosity regarding nature, ecosystems and wildlife conservation. Progress is measured by revisiting schools every year and speaking with parents after a week to see what their child(ren) have come up with. For example, one parent told me that after the presentation, their child came home with a sudden obsession to start wildlife rehabilitation centers.

The current challenge our outreach programs have been facing is the global pandemic and inability to visit schools. We are combating this by collaborating with teachers and conducting outreach via Zoom. The programs are entirely volunteer based with one staff member. As of January 2021, the outreach programs are funded via Patreon. Strategic communications are done via social media marketing, community presentations and a large portfolio of earned media. The outreach programs were featured on the cover of the Missoulian in early 2020.
Tag Your Project
Outreach, Education, Conservation, Wildlife, Knowledge, Inspiration, Motivation, Climate Change, Ecotourism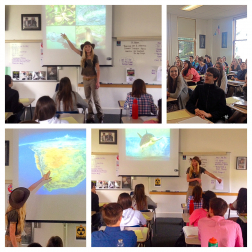 Submitted by:
Mandela van Ee...
Date Last Modified:
Feb 5, 2021