2022 EcoCareers Conference
April 6-7, 2022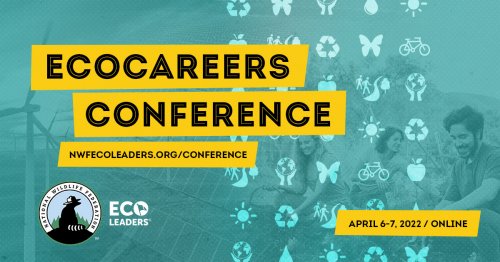 Thank you for participating in the National Wildlife Federation's 2022 EcoCareers Conference!
Contents:
---
The following 2022 Conference Downloads are available:
Back to top of page
---
Dr. Karen Williams Weaver; Karen Williams Weaver Foundation

Marcus Sibley, National Wildlife Federation

Dr. Karen Williams Weaver was born and raised in Flint, Michigan. She is the youngest of three children born to Dr. T. Wendell Williams, a pediatrician and Marion Coates Williams, the first African- American teacher in the Flint public school system. After graduation from Flint Northern High School, she attended the University of Michigan-Flint before transferring to Tougaloo College in Tougaloo, Mississippi where she graduated with her Bachelor of Arts (BA) degree in Psychology. She went on to obtain a Master of Arts (MA) degree in Applied Psychology from Long Island University in Brooklyn, NY, followed by a Ph.D. in Child and Family Clinical Psychology from Michigan State University with a specialization in pediatric psychology.

Dr. Karen Williams Weaver served as the first female Mayor of the City of Flint from November 2015 until November 2019. While serving as Flint's mayor, she was the 2nd Vice President of the African American Mayors Association and on the Advisory Board of the US Conference of Mayors.

To continue her commitment and passion for community and economic justice for people of color and underserved populations, she created the Karen Williams Weaver Foundation (KWWF). KWWF is a national voice of advocacy for communities to garner resources necessary to rebuild infrastructure in a way that protects health, creates economic opportunities and safeguards the fundamental right to safe and affordable water.

Marcus Sibley is an Environmental & Social Justice Activist, Speaker, and Poet with a deep and profound commitment to justice and progress. He's the Director of Conservation Partnerships for the National Wildlife Federation Northeast Regional Center, where he works to build capacity for the fights for animal, human, and environmental rights. In his jurisdiction which includes NJ, NY, and CT, he works closely with affiliates NJ Audubon, Environmental Advocates of NY, and Connecticut Forests and Parks Association, and he also works closely with the NWF National Environmental Justice Team and the NWF International Team.

The Newark, NJ native also serves as the NJ NAACP Environmental & Climate Justice Chairman, the President of the Southern Burlington County NAACP Branch, and the Chairman of the New Jersey Progressive Equitable Energy Coalition (NJPEEC). A multiple award winner for environmental advocacy and social justice, he also serves on the Lead-Free NJ Coalition Advocacy Committee, the New Jersey Communities for Accountable Policing Coalition, and the New Jersey Offshore Wind Coalition. A Rutgers University alum with undergraduate and graduate degrees in Social Work, the Leadership Development Specialist presented across the country for the previous fifteen years prior to the pandemic. Mr. Sibley is grateful for his purpose, his loved ones, and every opportunity to share information because education truly is power.

Vic Barrett, Power Shift Network

Sean Armstrong, Redwood Energy

Vic Barrett (Pronouns: He/Him) was raised in the great state of New York as a first-generation Honduran-American! He is proud of his roots, with his family being part of the Garifuna community. He appreciates the uniqueness of his heritage of being Afro-Indigenous and Afro-Latino which inspires a lot of his connection to the natural world and the ways we can challenge ourselves to understand it better. Vic is deeply invested in finding the best ways to exchange stories and lived experiences as a tool for promoting better understanding amongst people. He is incredibly motivated in building bridges to help people understand that Black, brown, and Indigenous leaders hold a lot of the knowledge and values we need to not only beat this climate crisis but also beat the negative values that have perpetuated the climate crisis! Outside of organizing Vic enjoys playing his PlayStation, chilling in his hammock, and cuddling with his cat.

Sean Armstrong is the Managing Principal of Redwood Energy and has worked for 25 years in building electrification, designed the retrofit and new construction of more than 10,000 all-electric residences for disadvantaged populations, co-authored five practical guides to building electrification, provided legal and technical support to dozens of gas bans nationwide, helped develop the 2016/2019/2022 and 2025 Title 24 California Energy Codes, and has received sustainable design awards from the United Nations, the U.S. Department of Energy and the SoCal Building Industry Association.

Lisa Yee-Litzenberg, Green Career Advisor

Laura Thorne, The Environmental Career Coach

Lisa Yee-Litzenberg is a certified career coach with over 25 years in the environmental career arena. She is President of Green Career Advisor, a business she launched in 2016 to help people find and secure their dream green jobs. Prior to that, she spent 10 years developing and leading the career service office at the University of Michigan's School for Environment and Sustainability and helped thousands of students to launch their green careers.

Before her coaching work, Lisa spent 12 years as a professional conservation advocacy leader at the National Wildlife Federation where she worked on Great Lakes and wolf conservation initiatives. She developed a passion for increasing the diversity of environmental professionals and helping them grow into leadership roles. Lisa has a natural resource management degree from the University of Michigan. In her spare time, she is an avid soccer player, hiker, native pollinator gardener, and a volunteer Climate Reality Leader making a difference on climate change.
Laura works with students, recent grads, and career changers from all backgrounds who are seeking environmental careers to gain confidence in their searches by crafting sound career navigation plans. She is well connected across the US in the environmental and sustainability fields through her position as past-president of the Tampa Bay Association of Environmental Professionals and now serving as a board member of the National Association of Environmental Professionals.

Laura has a Bachelor's Degree in Biology from the University of South Florida, is a certified Project Management Professional (which means she is an expert in creating actionable plans), and has walked in your shoes!

Antonio Carriere

Arnaldo Perez-Negron

Antonio P. Carriere is the senior-level urban planner for Atlas Technical Consultants. His focus is on community needs and develops short-term and long-term solutions to improve and revitalize forgotten communities. Antonio has based his entire career on researching sustainable and resilient built environments that enhance the quality of life for everyone, especially those disadvantaged, to find solutions to keep people safe, connected, and productive. In addition, he is a professional transportation planner with experience in national transportation policy, regional planning, and local government.

Before joining Atlas Technical Consultants, Mr. Carriere served as the Acadiana Section Director for the American Planning Association (APA), the Louisiana Chapter, a nationally recognized non-profit promoting greater civic involvement in urban planning and development. Mr. Carriere also serves as the President of the Board of Directors for NAMI. This national non-profit organization supports and educates families and individuals living with mental health conditions.
Arnaldo Perez-Negron is an environmentalist, social entrepreneur, and passionate advocate of the circular economy. Being born and raised in Puerto Rico, surrounded by vast mountains and beautiful beaches, he developed a love for the environment and a strong will to protect it.

Now, as Circular Economy Specialist at Rubicon, Arnaldo focuses on helping customers across the U.S. in finding innovative and technology driven solutions to divert hard to recycle materials from landfills. Previously, he worked with the sustainability teams of several local governments including the City of Orlando, the City of Norfolk, and Pinellas County. Arnaldo was an Environmental Defense Fund Climate Corps Fellow in 2020, where he received rigorous training on how to help organizations plan, track and act on their sustainability goals.

Ashanti Carter

Donna Volkmann

Ashanti Carter serves as the Program Manager of the Rodham Institute, located at the School of Medicine and Health Sciences at the George Washington University. At Rodham, Ms. Carter produces content for the Rodham Impact Speaker Series, a bimonthly series of webinars that brings together thought leaders and community advocates from across the country.

Ms. Carter also leads the Health Education and Leadership Program (H.E.L.P.), a longitudinal pipeline program for high school students from Title 1 schools. H.E.L.P. provides scholars with the tools that will enable them to not only graduate from high school, but also college.

Ms. Carter, who is originally from Los Angeles, California worked as a teacher for the Los Angeles County Office of Education (LACOE) and graduated with a Master of Public Health from Charles R. Drew University of Medicine and Science. She is currently a doctoral candidate in the Higher Education Administration program at the George Washington University Graduate School of Education and Human Development. Ashanti's goal is to serve as an administrator in Student Affairs in a post-secondary education institution.
Donna Volkmann is committed to providing action-oriented environmental education and stewardship opportunities to all students. Donna is the Fairfax County Public Schools Educational Specialist for the Get2Green environmental stewardship program. She received her Bachelor of Science degree in biology and her Master's degree in Curriculum and Instruction in Secondary Science Education from Virginia Tech.

Donna has over a decade of experience teaching AP Environmental Science and biology, has presented at the International Teacher-Scientist Partnership Conference, and was honored as an Einstein Distinguished Educator Fellow at the US Department of Energy where she worked with educational outreach programs at National Renewable Energy Lab and Brookhaven National Lab. Donna has been an important contributor to the Joint Environmental Task Force, a collaborative effort between Fairfax County government and Fairfax County Public Schools to develop environmental sustainability goals. Donna's current work focuses on nurturing relationships with sustainability partners, providing professional development to support teachers in engaging all students in outdoor learning opportunities, expanding the Get2Green program to provide access to all students, and guiding school principals to be leaders of green schools.

Eboni Hall

Hannah Malvin

Eboni Hall oversees a new initiative to develop and implement American Forests' mission into academia. Hall creates awareness of urban forestry career opportunities for students, changes how students learn about urban forestry and uses scientific research to achieve Tree Equity.

She works with academic institutions nationwide to expand urban forestry programs and courses, increase awareness of urban forestry as an interdisciplinary field and provide resources for career paths in urban forestry. Hall is also committed to providing innovative and effective approaches to share technical information with non-technical audiences – by linking the information to and implementing practices in communities it will impact.

Hall graduated from Southern University and A&M College, The University of Georgia and Texas A&M University with degrees in urban forestry and natural resources.
Hannah Malvin is a coach and consultant with more than a decade of experience working in progressive politics. She's focused on making workplaces more equitable and boosting staff wellbeing, rooted in her training in positive psychology. She offers staff retreats, trainings, technical assistance, and coaching and has worked with Congressional offices, federal agencies, nonprofits, foundations, and fortune 500 companies.

Hannah is Program Manager for The Bridge Program, a public-private partnership and equitable hiring pathway for the environmental sector focused on people of color. She served as Senior Representative for Partnerships at The Wilderness Society, leading a strategic planning initiative to root relationships in equity by designing new systems of staff learning, knowledge sharing, and coordination.

In 2016, she founded Pride Outside, now the main hub for LGBTQ outdoor inclusion initiatives with Congress, federal agencies, and conservation nonprofits. She was a legislative advisor to Congressman Mike Doyle, covering health, foreign affairs, immigration, and more, and was Staff Director of the Congressional Autism Caucus. Hannah earned a BA in Political Science from Brown University and certifications in applied positive psychology and applied positive psychology coaching from The Flourishing Center. She is Vice Chair of the Southern Appalachian Wilderness Stewards Board of Directors.

Dr. Jennifer Atkinson

Jillian Morris

Dr. Jennifer Atkinson is an author and Associate Professor of environmental humanities at the University of Washington. She researches eco-anxiety, grief, and hope, and teaches seminars on climate and mental health that have been featured nationwide.

Dr. Atkinson is currently working on a book titled An Existential Toolkit for the Climate Crisis, which offers strategies to help young people navigate the emotional toll of climate breakdown. Her podcast "Facing It" also gives people tools to channel eco-anxiety into action.

Born and raised in Maine, Jillian's love for the ocean started at an early age and has continued to play an integral role in her adult life. She has spent thousands of hours in the field working and diving with sharks across the globe. She is a marine biologist, shark conservationist, scuba instructor, educator and the founder of Sharks4Kids. She has filmed for numerous television shows and networks, has appeared on Shark Week and is a PADI Ambassadiver. She was named Scuba Diving Magazine's July 2016 Sea Hero , awarded the inaugural Shark Con Shark Hero Award in 2017 and was the Go Blue Awards 2020 Blue Ambassador of the Year. She is the author of Norman the Nurse Shark and Shark Super Powers and a member of the prestigious Ocean Artists Society.

Jon Polley

Marisa Valdez

Jon Polley is the Executive Chef at UPMC Magee-Women's Hospital in Pittsburgh, PA. Even though he graduated the University of Pittsburgh with a degree in Economics, Jon has never shaken his love of food and its magical powers, having spent more than half of his life in kitchens. On top of overseeing all food production operations at the hospital, Jon leads sustainability initiatives for both Magee as well as for Food Services across the UPMC system. His initiatives and interests include, but aren't limited to, reducing food waste, working with community food rescue organizations, cooking seasonally and plant-forward-ly (I know, I made that word up), composting and regenerative agriculture.

He is a 2021 graduate of MAD Academy's Environment and Sustainability program in Copenhagen, Denmark, and continues to champion the many ways in which food can heal both people and planet.
Marisa Valdez (she/her) is a native New Mexican, STEM enthusiast and realist with environmental and social justice advocacy roots and EJ working group experience. She has earned an M.S. in Environmental Policy from The New School's Milano School of Policy, Management and Environment and a B.S. in Spanish and Environmental Science from The University of New Mexico.

She has spent 10+ years developing environmental education and STEM projects that address community needs in the U.S. and internationally. Marisa has worked with State and federal agencies such as the National Forest and Parks and Recreations and is a Peace Corps, and Peace Corps Response alumni.

Marisa currently works with AES Clean Energy as a Stakeholder Relations Analyst. When she's not exploring the creative possibilities of this work, Marisa can be found roaming the great outdoors, gleaning inspiration from all expressions of life, culture and stories of "his"tory.

Oday Salim

Phoebe Romero

Oday Salim is an adjunct clinical assistant professor of law and director of the Environmental Law & Sustainability Clinic, as well as an attorney at the National Wildlife Federation in its Great Lakes Regional Center. Prior to joining the clinical program, Professor Salim practiced environmental law in Pennsylvania and Michigan focusing on stormwater management, water quality permitting, water rights, environmental justice, land use and zoning, utility regulation, mineral rights, and renewable energy. He has litigated in administrative and civil courts at the local, state, and federal level, and also has done transactional work for individuals and nonprofits.

As an adjunct professor he has taught Energy Law at the University of Pittsburgh School of Law and Wayne State University Law School, and Oil and Gas Law at Lewis & Clark Law School. For the last six years, Professor Salim has authored the competition problem for the Robert R. Merhige Jr. National Environmental Negotiation Competition, which is hosted by the University of Richmond School of Law. In 2018, he was named one of the Grist 50 Fixers for his work on environmental and public health protection in minority communities. He gives talks on various subjects including green infrastructure in urban areas, water affordability and ratemaking and conferring rights to natural resources.
Phoebe Romero is passionate about the intersection of climate policy and racial equity. She currently works at the City of Austin Office of Sustainability focusing on air quality and climate action that reduces environmental impact and improves quality of life outcomes for historically impacted communities. She was formerly a Program Manager at CLEAResult, where she implemented utility energy efficiency programs for large commercial and institutional organizations across Texas.

Prior to CLEAResult, she was an Environmental Defense Fund Climate Corps Fellow tasked with evaluating energy and water conservation initiatives at Huston-Tillotson University. She has a BA in Political Science and Latin American studies from Brown University and a joint Professional Science Master's in Environmental Management and Sustainable Development from St. Edward's University and Université Catholique de l'Ouest.

Dr. Sacoby Wilson

Sarah Lillie Sewell

Dr. Sacoby Wilson is an Associate Professor with the Maryland Institute for Applied Environmental Health and Department of Epidemiology and Biostatistics, School of Public Health, University of Maryland-College Park.

Dr. Wilson has over 20 years of experience as environmental health scientist in the areas of exposure science, environmental justice, environmental health disparities, community-based participatory research, water quality analysis, air pollution studies, built environment, industrial animal production, climate change, community resiliency, and sustainability. He works primarily in partnership with community-based organizations to study and address environmental justice and health issues and translate research to action.

Dr. Wilson is Director of the Community Engagement, Environmental Justice and Health (CEEJH) initiative. CEEJH is focused on providing technical assistance to communities fighting against environmental injustice and environmental health disparities in the DMV region and across the nation. In addition, he is working with schools in the region on pipeline development efforts in the STEM+H disciplines (Science, Technology, Engineering, Mathematics, and Health).
Sarah Lillie Sewell is Founder & Chief Executive Officer of Lillie Leaf Solutions. As a fiercely passionate servant leader, Sarah builds programs that put a profit motive behind environmental stewardship and social equity. She began Lillie Leaf in 2015 to help the environmental sector develop new ways of addressing diversity, equity, accessibility, and inclusion in their work. Most recently, she launched and administered the Tree Equity: Career Pathways Initiative at American Forests to inclusively grow the urban forestry workforce, which has resulted in the training of hundreds and placement of dozens of individuals facing barriers to employment into entry-level tree care jobs. Sarah has led Lillie Leaf efforts to partner with entities like the U.S. Forest Service, City Parks Alliance, Arbor Day Foundation, and many more to spearhead justice-driven initiatives that expand access to quality nature. From operating national conferences and workshops to connecting BIPOC-led grassroots groups to key capacity-building resources, Sarah's signature collaborative approach brings all voices to the table to grow and sustain resilient green communities.

Sarah has a dual bachelor's degree in Urban & Environmental Studies and a certificate in Geographic Information Systems from the University of Pittsburgh and her master's degree in Public Administration from Bowie State University.

Warren Dickson

Warren Dickson of 3rd Rock Hip-Hop is an artist, producer, and creator from Watts, CA. He has worked with industry Moguls such as Grammy Award Winning producer Cory Rooney (Jennifer Lopez, MJ Blige) & DJ Pooh( Snoop Dogg, GTA). In 2014, he partnered with artists Archie Hill & Rhonda Phillips to help build a Hip Hop-based environmental education company called 3rd Rock Hip-Hop. Their goal is to help bring the message of sustainability to the inner city and to bring the Hip-Hop culture to the Green community.
Back to top of page
---
Day One:
Keynote by Dr. Karen Williams Weaver


Panel: Health and Wellness Careers


Creator Spotlight: Vic Barrett


Panel: Careers in Environmental Justice


Workshop: Job Applications 101 with Lisa Yee-Litzenberg
Day Two:
Keynote by Marcus Sibley


Panel: Environmental Education Careers


Entrepreneur Spotlight: Sean Armstrong


Panel: Careers in Urban and Municipal Planning


Workshop: EcoLeader Badge Opportunities


Interview and Performance by Warren Dickson
Back to top of page
---
A Special Thank You to Our EcoCareers Conference 2022 Sponsors:
Rubicon Technologies
Back to top of page