Ursula Ible; FAMU Campus Fellow; Vote Mob and Florida Student Power Network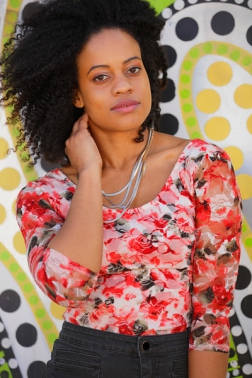 Description
Ursula is currently working as a Dental Representative and seeking a career in a nonprofit towards urban planning, grant writing and sustainable development in communities. She has recently worked with Vote Mob, which is a nonprofit organization that is focused on voter registration and education. As a Campus Ecology Fellow in 2010 and 2011, Ursula helped support the Power Vote 2010 campaign.
The National Wildlife Federation EcoLeaders Career Center is celebrating the motivating stories and career accomplishments of young professionals making their names (and a difference) in the sustainability movement. NWF EcoLeaders staff has interviewed this group of change-makers and rising stars that we call "The EcoLeaders Top 50 Inspirations."
David Corsar: Starting out, looking back at your experience with NWF, how did participation as a fellow help shape your career path?
Ursula Ible:
NWF was my first leadership role with a nonprofit as a college youth; I worked as a fellow from 2010 to 2011. It was one of the most rewarding and educational experiences in my college career. I had the opportunity to work with the
Power Vote 2010
campaign, as well as work and collaborate with campus organizations and clubs to help with outreach, environmental education, and influencing climate voters. That was a really fulfilling experience on a professional and personal level.
DC: What would you say is the top thing, a skill perhaps, that you learned in your professional development as part of that experience?
Ursula Ible:
One of the main things that I learned working with NWF was how to be a self-starter, and part of that is how to work within a team, how to be accountable, how to be timely, and how to really cultivate the skills that are necessary for one to become a leader of tomorrow. I'm very grateful having worked with NWF in the past and through the present. I worked under Carly Queen and with co-fellow Jomar Floyd, and later became a
Green For All
Campus Ambassador, and we partnered for
Power Shift 2013
, where we recruited 9 student leaders to attend in Pittsburgh, PA. That's when I met Crystal and Eriqah, who are also amazing leaders.
I think it's wonderful because it really provides opportunities for young people who want to be leaders in sustainability and that want to take charge in their community and find solutions to the climate issues of today. It's really an opportunity for those students to connect those dots, and intersect with all the different resources that are available to them, not just on a local level but on a national level with NWF.
DC: What are you up to these days? Are you working or studying or both?
UI:
This past year, I attended Power Shift Southeast in Orlando, Fl and Power Shift West at UC Berkeley, CA on Sept. 2016 and Nov. 2016 respectively. Both were unique educational experiences centered around presentations and discussion panels that addressed everything from grassroots orgazing local to global climate issues. Also in the past year, I worked with my students members in the FAMU Student Community Garden to build our fall and spring gardens with a second mini-grant I received from the Jane Goodall Roots & Shoots campaign. 
During PSSE and PSW I learned so much from testimonies and discussions about topics like food justice on GMO foods, economic pay parity for women, climate justice like Standing Rock to stop the Dakota Pipeline and sustainable best practices to support your local community.
Before that I was working with Vote Mob, which is a nonprofit organization that is focused on voter registration and education. So, it goes hand-in-hand with my degree in political science and minor in environmental science at
Florida A&M University
. It's given me an opportunity to spread voter education and civic engagement and proactively engage youth on campus on some of the policy decisions that are going to be made this election season – making sure that people are informed on both sides because we need a way to move forward for sustainability and to rectify some of the climate issues that we're dealing with today.
In addition, I also work as a
freelance blogger
, a community garden organizer, and I am consistently an environmental advocate and activist by involving myself and others, primarily youth, in different environmental convergences, such as the
People's Climate March
that took place in 2014 in Manhattan, New York, as well as
Power Shift
, from 2011 in DC and 2013 in Pittsburgh, Pennsylvania to the one that just took place in Orlando this past Sept.
DC: What would you say is your personal mission for sustainability?
UI:
It really does start with the individual – every life counts, every action counts, and even an inaction is an action, but I like to encourage people to not overwhelm themselves with the sustainability issues and climate injustices that can make you feel like, "Oh my God, there's no way that I could do anything; this is just way too big for me!" I like to remind people that everything starts with an individual, just as Dr. King said once.
If we all make it a personal mission of ours to recycle more, upcycle more, reduce our energy consumption, using different modes of transportation, or eating meatless at least one or more days a week, or even just things as shopping with your farmer's market and locally. All of these things add to the ripple effect on the local, national, and international level on ways that we can help not only preserve and protect the planet but also our own selves as well. So, my mission is to continue to spread that message through personal testimonies – sharing my personal story and also encouraging others to share their personal stories of their own lives.
DC: What motivated you to begin on this path?
UI:
My mother is my hero, she was the first person that introduced me to sustainability at a young age. My parents moved us from California, to Florida when my sister and I were babies. My mother, she was an activist and graduate of U.C. Berkeley and who got her M.S. at Florida State University and my dad was a Navy vet, project manager and consultant for the State. Growing up, we gardened at home, recycled at home, and those were things that at a young age instilled the value of taking care of the Earth as much as she takes care of us. Before my parents separated, I got to witness firsthand my mother's work as a grant writer for the State. Later we moved to Jacksonville and she worked as an executive of
Habitat For Humanity
. I volunteered in high school and learned the value of teamwork as well as leadership. That always inspired me to be just like her. Unfortunately, in 2006, my mom passed away from breast cancer. We had been living in Jacksonville for 5 years and she was a single mom with 4 kids, and I think that environmental degradation and income-related stress factors contributed to her health, so that became another push for me to live her legacy and to continue the work that she'd already been doing.
DC: That's really moving; thank you for sharing that. Today, who would you say are your primary "influencers" or inspirations in the sustainability movement?
UI:
I would say everyday people are my inspiration, you never know who someone is until they share their personal story or their truth, and I get inspired constantly by people young and old who come from all kinds of adversities that are here alive today and are trying to make the world a better place. I would say people like
President Barack Obama
,
Michelle Obama
,
Van Jones
and Jane Goodall with the
Jane Goodall Institute
, and organizations as a whole inspire me – organizations like
Green For All
and of course the
National Wildlife Federation
.
DC: Have you had any mentors or career coaches that have assisted you specifically in developing your career path? What about them made them successful mentorship relationships?
UI:
I think whenever someone adopts you almost like family that always is a very strong way to cultivate leadership because a lot of youth come from various backgrounds where they have had to struggle and deal with adversity. Having that kind of love and nurturing encouraged me and helped me believe in myself and want to take charge in leadership roles. That's why I think it's so important to build long-lasting relationships and friendships with people, especially people that see something in you and have the ability to connect you to a network of others that will help you along the way.
DC: Do you plan to seek out opportunities to act as a mentor yourself?
UI:
Absolutely! I have had the fortunate opportunity of being a student, a mentor, a sister and a friend to others
Florida A&M University
and
Florida State University
. I think the beautiful thing about our community is the capacity to care, and I think that it doesn't matter what your credentials are or where you come from, you should take the opportunity to help others and mentor others as much as others have probably done for you.
DC: My last question is what would you recommend to students who want to make a difference for sustainability?
UI: I would recommend for students who want to make a difference to reach out. Nothing happens in silence; you cannot expect to champion a movement operating in silos. You absolutely have to recognize the intersectionality of all of these issues. They affect everyone no matter their demographic, their race, their class, their gender, their sexual orientation, any of those things – it affects us all at the end of the day.
***  
Sector
Sustainable Energy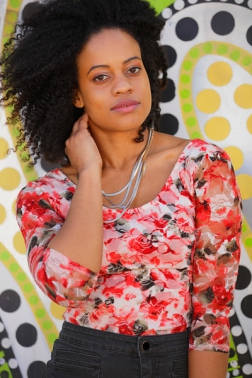 Date Last Modified:
Aug 14, 2017