Katharine Pelzer; Director of Strategic Partnership; Nextility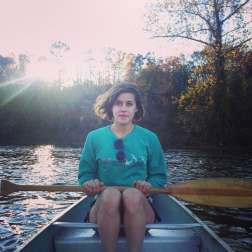 Description
Katharine is a Director of Strategic Partnership at Nextility, which is a startup that helps small businesses implement green energy solutions. As a NWF Climate and Energy Intern in 2010-2011, Katharine was responsible for planning events, participating in lobbying efforts, and meeting with a variety of professionals and stakeholders on a variety of sustainability policy initiatives.
Katharine Pelzer
Director of Strategic Partnership
Nextility
The National Wildlife Federation EcoLeaders Career Center is celebrating the motivating stories and career accomplishments of young professionals making their names (and a difference) in the sustainability movement. NWF EcoLeaders staff has interviewed this group of change-makers and rising stars that we call "The EcoLeaders Top 50 Inspirations."
David Corsar: So, to start out, looking back at your experience with NWF, how did participation as an intern help shape your career?
Katharine Pelzer:
My experience at NWF was a great exposure to all the parts of the broader environmental movement that are necessary to move the ball forward on a national landscape. It was an internship where I did a lot of event planning and we met with a lot of environmental justice leaders from across the country. I got to lobby on the hill; I got to take part in a lot of early actions from the keystone pipeline. I got to meet with populations that were affected by such projects within our office, and I got exposure to people within our office who in the past had acted as lawyers working on the clean air act in the early 90s, people who had been more action-oriented, protestors across the country, people who were scientists, and people who were communications professionals, so I really saw how many different types of professionals came together to work together in this movement. I also better understood what the private sector's role was and what the nonprofit sector's role was, what the public sector's role was. Being in DC, at the middle of the Obama administration, when a lot of private startups around energy started to open in the area, I was able to get exposure to public sector, private sector, and the nonprofit sector all at once and figure out how they all came together and why each was such an important piece.
DC: What was the top thing, a skill perhaps, that you learned in your professional development at NWF?
KP:
Well, I had Elizabeth Wallace, as many people did, managing the fellowship program at the time, and we had a lot of young women in our cohort. I think about 8 women and a few men, and we had different kinds of speakers come in and these different perspectives coming in and telling us about what they thought about what it was to be a strong professional.
Elizabeth often stressed that you'll never know when you'll see people again, and it's sort of the "golden rule," but for your professional life, you really never know if someone that you work with – and perhaps you butt heads with on a certain project – you never know if years down the line, they're going to be in the position of deciding whether or not you get to join a team or get a job you really want. So, really think beyond where you are in the moment and don't just react, but respond intelligently with your whole future in front of you, and don't split off any future paths for you.
DC: What are you up to these days? What is your role with Nextility and why did you choose to work there?
KP:
Nextility is a company that started in 2009. We actually started in solar thermal because our founder had a noncompete clause with his previous company and could not do solar electricity, so we built up solar thermal technology. It's a fascinating and wonderful technology used to create hot water, so that you don't have to use natural gas or other heating systems to heat the system to the point where you want to take a shower or wash your clothes or your dishes. And it was a particularly great technology when natural gas prices were high; with natural gas prices falling and copper prices rising, we shifted over into solar electricity (once that said noncompete clause was up) and started building projects all over the country. We eventually grew to have projects in Hawaii, Puerto Rico, New York and Massachusetts, but we wanted to create a business that could also scale more with project financing. When you're a project developer, you always have to raise more and more money, and so what we started doing is called energy brokerage – we help customers find the lowest cost electricity and natural gas contracts, and with our history as a green company, we can offer 100% renewable energy to our clients. It is really helping people who have small businesses, and maybe they rent the building, and they can't put solar on their roof, but they still want to support green energy, so we can help them access green energy at lower prices than their utility is charging them for much browner energy.
That's been really fun because I love working in a startup where you get to have your hands in everything – a little bit of marketing, a little bit of sales, some operations, corporate decisions, and build something together. It's the same sense that I had while being in a small cohort at NWF as part of a broader environmental movement to be part of a small team at a startup and that everyone's input really, really mattered.
DC: What would you say is your personal mission for sustainability?
KP:
It's an important thing to understand how you can be in line with your core values. It really comes down to a personal decision and your own expectations and kind of trying to close off to some other voices that can be misdirecting you. I know my own family was encouraging me to start off in some field that would earn more money, but I ultimately read the studies about expectations and core values, and I knew that money wasn't my primary driver. I wanted to do something where I felt that I was part of a bigger cause, and I also saw a lot of people at NWF who had been working in the environmental movement for about 25 years, and that sense of belonging that they had, the track record that they had, and I think that in this day and age – especially for a lot of millennials – it's harder to believe that you'll climb some ladder to success. But I have started to see it from my peers, both in nonprofits and in private industry where after a few years, you start to be the person who knows the most about something in a room.
So, I think committing yourself to the environmental field can leave a lot of things open if you want to transition to the private sector, or to the nonprofit sector, I think it's a good, broad field that still gives people a lot of leeway in terms of what job they may have 5 years from now. I've certainly found that for myself.
DC: What motivated you to begin on this path to focus on sustainability?
KP:
I grew up in Charleston, SC, and I was the daughter of two people who had a lot of friends who were naturalists and bird watchers. As an 8 year old girl, I can't say that I always went willingly on a 10-mile march to go hear some cuckoo birds out in the forest (laughs). But both for me and for the children of those other naturalists, we all ended up doing things related to the environment. It's settled into us over time – that deep connection with nature, and seeing nature as a place where we're restored.
I learned about climate change when I was – I think I first heard about it in grade school – but it was in high school that I really started to be obsessed with it and to see it as the predominant issue of my lifetime with its tie-ins to women's health, how it affected less advantaged people around the globe, and it just seemed to be a major injustice and something that I wanted to dedicate my life to in some form or another.
So in high school, I interned at Greenpeace for a few months, and I had a great mentor there. His name was Kurt Davies; he was the research director. And I got to research the ties between Exxon Mobil and politicians. Up until that moment, coming from the south and being a little bit more liberal myself, I was thinking, "politics are so divisive, I want to stay away from politics," but then I realized how powerful it can be to engage in politics and not shy away from going into the breach and going into that uncomfortable area where you're talking to people about how your beliefs are different.
After college, where I spent a lot of time working on environmental policy, I wanted to come to DC and get involved with environmental policy specifically around issues of environmental justice. I interviewed for the position at NWF, and it was my dream job – a lot of my colleagues in the fellowship program had PhDs, and it was a pretty amazing group of peers, and there was a real sense of camaraderie around the office. We weren't the kind of interns that were making coffee all the time and running errands, and that meant a lot to me; there was a lot of respect given to fellows at NWF, and everyone in that office was really trying to help us bolster our career for our next steps.
DC: Who are your primary "influencers" or inspirations in the sustainability movement?
KP:
I'm inspired by a lot of people; I'm inspired by a lot of the Environmental Justice activists – the fact that they've been doing this work for decades – that can be pretty existentially exhausting, especially in the face of political regimes that don't see you as fully human or respect your rights.
I'm also inspired by a lot of women who have fought their way into energy; women who at the same time are trying to mentor other women to take on more of coaching roles to pull other women up in energy and think about how women treat each other in the workplace and in our society.
I am inspired by male allies; I think that's something that was brought up a lot within our fellowship class, and we definitely saw that great leadership at NWF, like Jim Lyons and Tim Warren, that a man can be a great mentor. Not all of your great mentors are going to be other women – unfortunately that's sometimes because there aren't women at those levels of different organizations, but at NWF there certainly were.
The founder of my company, Zach Axelrod, has been a great mentor to me. I feel like I'm stronger on communications, but I was a bit weaker on understanding the financing on some of the solar projects we did, and we had lunch every single Friday, and he explained project finance and how he has held true to his values in trying to create companies that do good and don't require people to really change their behavior in order to make greener choices for themselves.
DC: You mentioned a few of the mentors that have helped you through the years. How would you describe or characterize a successful mentorship relationship? What makes a mentorship relationship successful for both the mentor and the mentee?
KP:
So, I think there's different kind of mentors. I think there're some mentors that you can be totally open about your questions – perhaps as deep as whether to even be in the field – but there's other mentors with whom perhaps you have to show a stronger commitment and maybe share less about your personal life. So, I think it's important at first to suss out what kind of mentor a person is – and oftentimes, your mentors may not even be in your field. There might be someone who wants to help you navigate you career, perhaps they're just a bit further along in their career, or maybe they could even be a peer. One of my great mentors was someone at my organization that I had wanted to mentor, and then I realized over time that we were mentoring each other – despite the fact that I was a few years ahead of her in my career.
I think what makes a successful relationship comes down to a connection – chemistry – you can't force a mentorship relationship. I think it's important to take it slow, I don't go to people and say, "oh would you be my mentor?" It's like, "I'd love to grab coffee with you, and these are a few of the things that I would like to ask you about." And being grateful for that specificity – not being vague and putting it all on that person. A mentor is not your therapist; it's not someone who can tell you what to do.
I think it's important with any mentor, and with anyone that you are coming to meet in a professional setting, to first think about what you can do for them, so have that be what comes most natural to you. Exercise that muscle so that when you're meeting anyone in any sort of networking situation, you're thinking about how you can connect with this person and help them – try to think of where you can add that in the relationship, so that it is more symbiotic over time, just like with any other friendship you would have.
DC: Do you plan to seek out opportunities to act as a mentee again or perhaps a mentor yourself?
KP:
Absolutely! One thing that the founder of my company said to me and that I've run through with how I've been conducting myself over the past few years is to never turn down a coffee with anyone. That comes back to what Elizabeth Wallace said in that you never know what position someone will be in in your life further down the line. And it's not even from a self-interested point of view, it's more from a karmic point of view to always give where you can.
I remember that when I first moved to DC, I probably had 30 different coffee dates with people, and every time I tried to pay, they would say, "you're here and not making any money, so I'm going to do this for you," and I felt like there's this kind of karmic debt that I wanted to repay. It's a cool transition point when you start to be the one that people ask to grab coffee. I feel like there's this great culture around informational interviews, especially in DC, that I'm really appreciative of, and beyond that, I'm always looking for opportunities to mentor people and help where I can.
DC: What would you recommend to students who want to make a difference for sustainability in your sector?
KP:
I would say, oftentimes you won't get every itch scratched from your day job. So, find ways outside of your day-to-day to flesh out what it feels like to you to support sustainability. For example, I have a colleague who volunteers in his local community garden. Especially if you're working in environmental policy at a national level and you're a person who really cares about and feels connected to an issue, you're probably going to need some sort of more local, connected work to do.
I think a lot of places offer a lot of opportunities for that, so thinking through who you want to be as your whole self and how you can be involved at different levels – whether it's volunteering on the weekends or taking part in actions in your city is a great way to keep the fire going even if your work has you super focused. Keep reminding yourself of why you do the work because burnout is very possible – it's important to take care of yourself and your personal sustainability as well.
***  
Sector
Sustainable Energy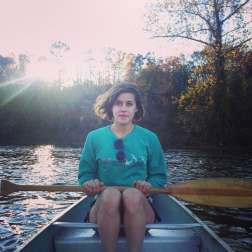 Date Last Modified:
May 19, 2017