Pamela Millan; Certified EcoLeader Student; St. Edwards University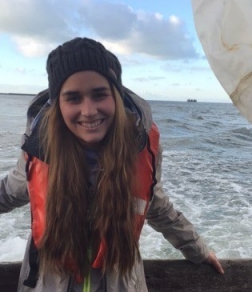 Description
The National Wildlife Federation EcoLeaders Career Center is celebrating the motivating stories and career accomplishments of young professionals making their names (and a difference) in the sustainability movement. We're calling this group of change-makers and rising stars "The EcoLeaders Top 50 Inspirations."
Interviewee: Pamela Millan
Certified EcoLeader
Student, St. Edwards University
Interviewer: David Corsar, NWF
Pamela
is a Certified EcoLeader and a student at St. Edwards University. The project for which Pamela received certification studied the
relationship between white-tailed deer density and activity in a residential area
.
David Corsar: Pamela, congratulations on your certified EcoLeader project studying the behaviors of white-tailed deer and thank you for your contributions to our EcoLeaders Career Center as a content development fellow. What are you up to these days on your academic and professional path for sustainability?
Pamela Millan:
It was a pleasure working for the National Wildlife Federation EcoLeader project and its online community. The white-tailed deer project was part of my master's degree for a class called "Community Ecology and Population Ecology." While it was part of my curriculum, I had a lot of fun doing it, and I haven't done anything like that since. Right now, I'm finishing up my third semester of my master's program, and I will be starting an internship soon in Costa Rica with two organizations,
Turtle-Trax
and
Pretoma
, doing hatchery work and also possibly some work with sustainable fisheries. I'll be working with them in creating trails, collecting garbage, making sure the beach is safe for the people to go to, and then turtle hatchery work will mostly be going on patrol at nights, collecting the eggs, measuring the turtles that we see, all that great stuff that comes with turtle work.
DC: That sounds like an incredible opportunity. Another great opportunity that you recently had was attending COP21. What was that like for you?
PM:
I'm trying to come up with the perfect word, but I don't think I can. I'll just say it was a mind-blowing, extraordinary, unique experience. I was able to go to COP21 as an intern and volunteer for the
Sylvia Earle Alliance Mission Blue
and
Oceans inc
organizations. It was amazing to see people from all walks of life - from climate, to meteorology, to oceans, to jungles, to energy, to anything that has to do with human beings being on earth coming together to talk about the one thing that we all have in common, which is climate change and how we're going to deal with this problem. It was magical in a way to see all these people being able to sit down and talk about it, exchange ideas, and try to come up with ways that we could be more sustainable and take care of this Earth that we have. So, yeah, it was pretty inspirational.
DC: What would you say is your personal mission for sustainability?
PM:
My personal mission would be to become more sustainable myself and lead by example. Growing up, I saw and did what a lot of my adult role models would do. So, I did what my mom would do, what my aunt and my uncle would do, what my grandmother would do, and to me it's really important to continue that legacy and try to inspire other people to follow a sustainable lifestyle.
But if I'm not sustainable myself, it's hard to inspire other people. I think that there's always areas of my life that I can improve, and I think that's my mission to become the most sustainable I can be.
DC: What motivated you to begin this path?
PM:
As an undergrad, I was a bio major, so I wasn't really dabbling too much in the environmental field. I always told my friends that it took a class to really shake things up and make me think, "What am I doing, and how am I affecting the world?" The name sounds kind of terrible, it was called "Environmental Crisis," and I just took it because the description sounded interesting. We talked about fracking a lot, in upstate New York where I did my undergrad at Ithaca College it was a big deal, something that was really rocking the foundation of upstate New York. So, we're talking about what we are going to do for our energy supply and how we are going to reduce our dependence on foreign oil, and also how to protect human health. And it wasn't just fracking, but also farming, the meat industry, plastics, and so I would tell my friends, "I got out of class, and now I'm so depressed. What am I doing? I don't even want to switch my light on anymore!" But then, as the week passed and as the next class came around, I thought, "Okay, I learned something. I've accepted it, now I need to do something about it." And then, I would be excited for the next class because it really made me open my eyes to what's out there, and how little I actually knew about the environment and what was going on.
DC: You mention in your personal mission that you want to be an inspiration. Who do you draw inspiration from; who are your primary "influencers" or inspirations in the sustainability movement?
PM:
Wow, there's just so many people out there that are doing great things... But because of my love for the ocean, I would have to go with two specific people. One has kind of always been there, and the other is a little newer. The first one is Sylvia Earle. She is such an inspiration to us; I got the amazing chance to work next to her at COP21 and to see all the energy that she has, all the passion that she has for the oceans. It's impossible not to be at that same level when you're working with her. You just want to speak up for the oceans! She's just an inspiration in everything that she's done in her lifetime - not just for the oceans, but also for women scientists and women that want to work in this field - so I think she's an amazing role model for the next generation.
The second person I would say is fairly new: Boyan Slat, creator of
The Ocean Cleanup Project
. It's funny to say this because he's actually younger than I am. I'm 24, and he's 21. But he came up with this brilliant idea to create this massive structure to clean the oceans of plastic pollution. And just the things that this 21-year-old has done in his limited time is, to me, mind-blowing. I look up to him - just starting something like that and then actually carrying it out. He found the funding; he crowdfunded most of the funding for his project, and he found investors and stakeholders. All of that to me is mind-blowing and I have to take off my hat to him.
My two influencers, my inspirations are from both ends of the spectrum – I'm right in the middle trying to figure out how I can help and how I can put my little creative stand in there and hopefully just contribute to what we all have to contribute to, which is to try to remediate all of the damages that we've done.
DC: Do you have any mentors or career coaches that have assisted or are assisting you in developing your academic or professional path?
PM:
Yes, I definitely have a couple that I can name - that have always been there. One would be
Dr. Peter Melcher; he's a professor of plant physiology at Ithaca College
. I worked closely with him in my undergraduate program. He wasn't my academic advisor, but he acted like an advisor. I had ecology with him. He's always been there for me, ensuring that I take the right steps. He was actually just chair of the department for the last couple years, so he also has a lot of stuff going on in his life, but even with that, he always has time for an email or a quick chat, and that is great.
Also,
Dr. Michael Wasserman
, one of the professors in my master's program; he was our advisor in the deer project. He's really easy going, easy to talk to, and you can bounce ideas off of him. He wouldn't give us answers to our questions right out, but instead would push us to look outside of our scope, outside of our vision. I think we sometimes box ourselves in, and he pushed us to look at problems from different directions, from different angles. He made it really comfortable to have those conversations with him by making us feel more like colleagues than students, which raised our self-esteem and helped us make that project successful. In fact, the
Wild Basin Wilderness Preserve
, where we were working, is interested in continuing the project and making it long-term.
DC: Looking back at your experience with NWF, how did participation in EcoLeaders help you shape your personal and professional path?
PM:
It started Fall of 2014. I had just moved to Austin and started my master's program. We got an email saying there was a contest going on from NWF and all you have to do is sign up for this online community, post in a forum, and get more people from your school or university to sign up. I thought, "This seems pretty easy." And we could win
SXSW Eco
badges, which I was really interested in. There were a lot of really great speakers, including Sylvia Earle, that year. I signed up, got some friends to sign up, and I really wanted to win, so I started sending emails to everybody - all my professors – asking them to get their students to sign up. We ended up winning the badges, and
the NWF office in Austin
was able to provide me with the names of the people that signed up from St. Edwards and a few extra badges, so the majority of my cohort was able to go. It was kind of like a class trip; our professors even said, "You're not expected to come to class. Go to it, and we'll discuss afterwards." It was like a dream come true. It was at SXSW Eco that I met Charlotte Vick, who you could say is Sylvia Earle's right hand woman. I kept in contact with her, and she is the one who asked me to intern at COP21. So, all these events that started with me just signing up for NWF EcoLeaders has led me to going to COP21.
Another thing that was really amazing for me was that I was able to be a content development fellow over the summer, so I was able to work with Courtney and Crystal in developing new content, specifically for the
EcoLeaders Career Center
. I've always had an interest in writing, and I just wasn't able to concentrate on it with everything with school and work, and thanks to fellowship, I was able to go back to writing and really focus on it to where it inspired me to start writing again. Now I have been blogging for the last 6 months about my traveling and things that I find interesting, and I have a website,
www.pamelamillan.com
, all thanks to NWF.
DC: What would you say is the number one thing that you learned from your experience with NWF?
PM: Emailing is a great tool. Email often, and don't be afraid to reach out to people. Sometimes I think as a young professional, we're kind of intimidated to reach out because you don't want to annoy people, but I think you'd be surprised. Just try to communicate and get yourself out there. People are interested in working with each other. People always need help.
Sometimes you just have to email and say "hey, I can write this for you; I can do that for you." Reaching out to people is the number one thing that I learned - both as being a part of the EcoLeader community and working with other community members during the fellowship and also with the amazing people at NWF during my content development fellowship.
***  
Sector
Habitat and Wildlife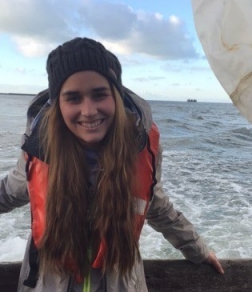 Date Last Modified:
May 15, 2017